Regular price
Sale price
$94.88
Unit price
per
Sale
Sold out
10-lb
bag for
$94.88
+ flat $0.99 or FREE shipping (over $39 purchase)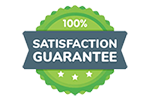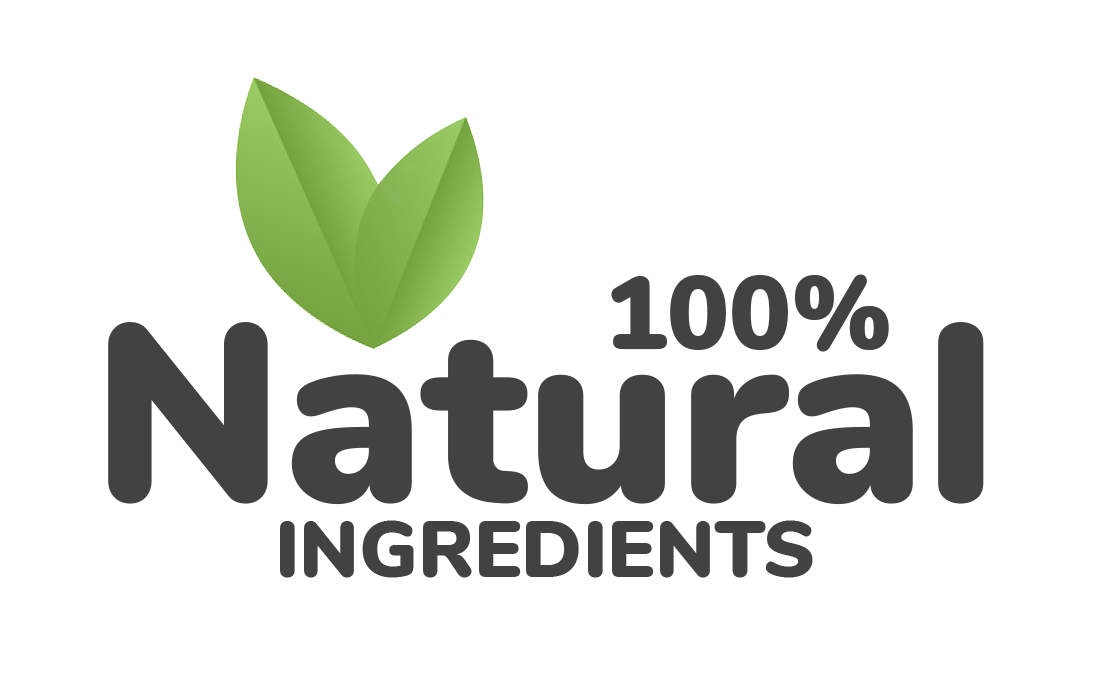 Great Flavor, Friendly Price, and AMAZING Nutrition!
A 10 pound bag of EcoEats makes a whopping 72 pounds of fresh food. Grain-free, gluten-free, and preservative-free – our healthy, dehydrated, veterinarian formulated mix is dog food at its best. Simply add water, and your choice of protein!
With EcoEats You Get:
Yummy food your dog will absolutely love!

Nutritious ingredients that keep your pup healthy and happy

Organic and naturally-sourced ingredients so you can feel great about your choice

An affordable, dehydrated dog food that gives you way more at half the cost
All Vet Organics products are supported by our 100% unconditional money-back guarantee.
View full details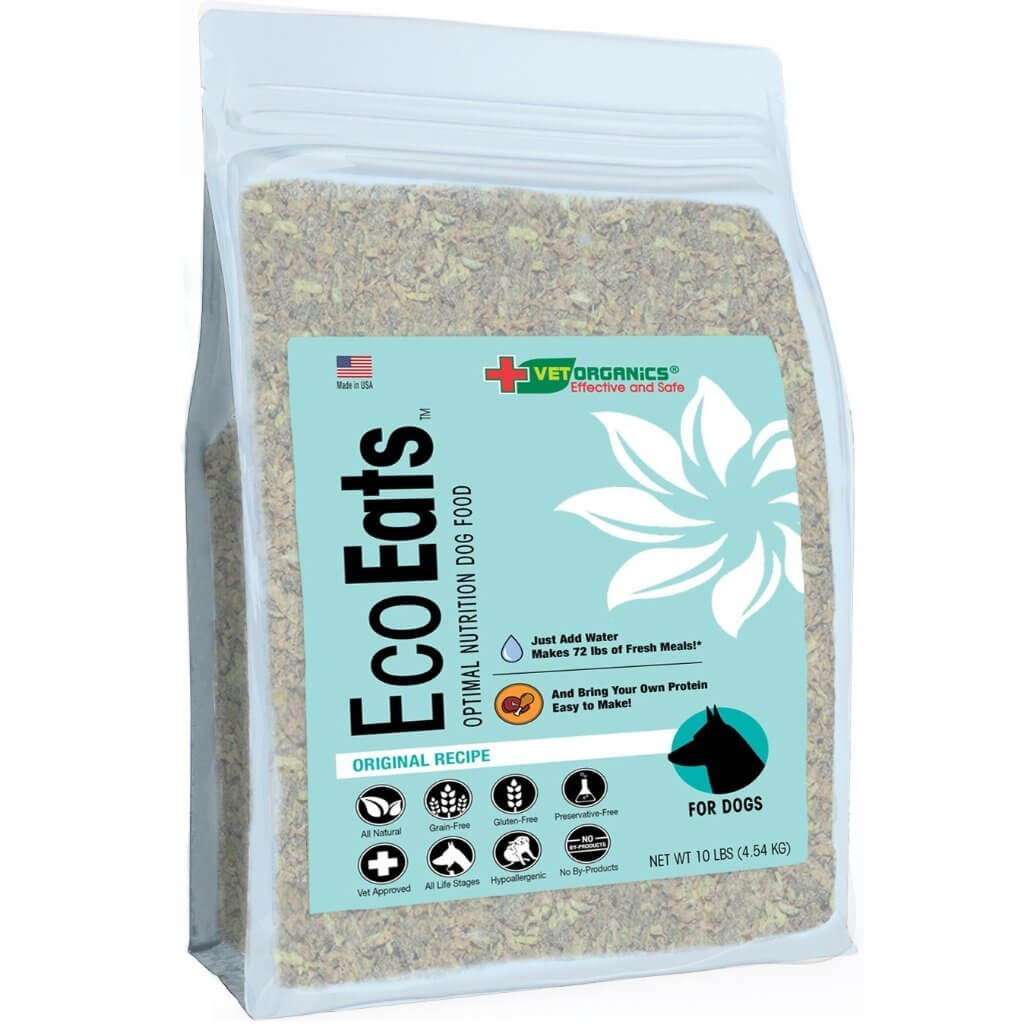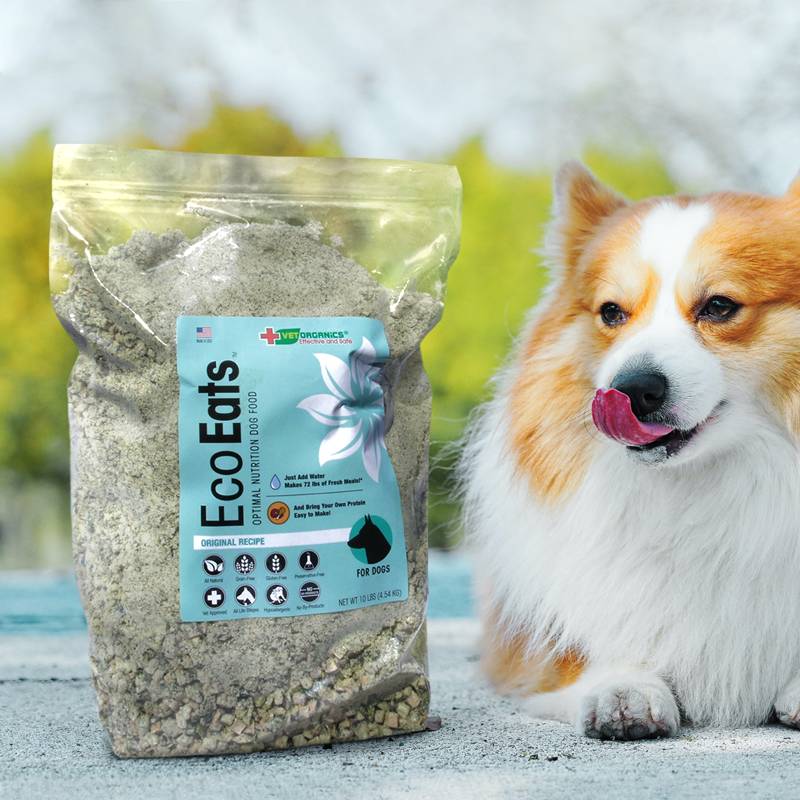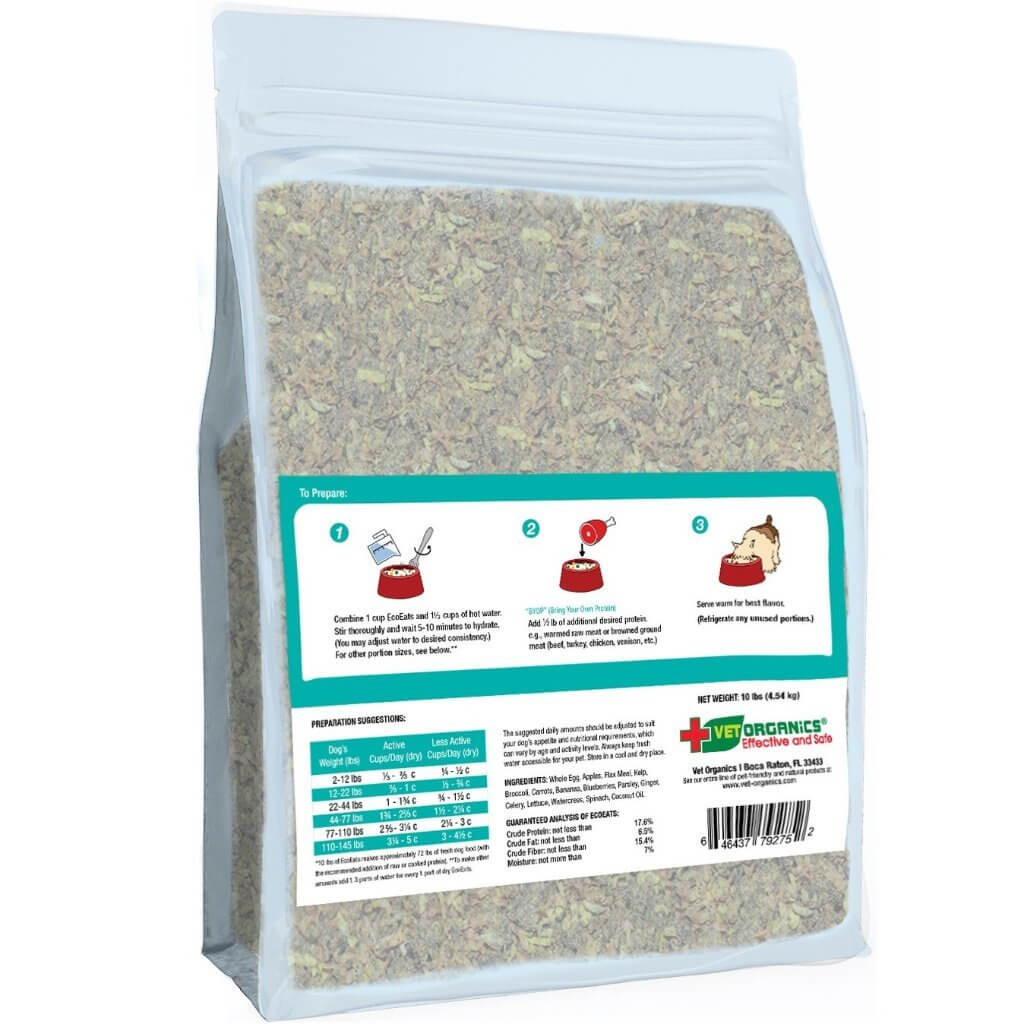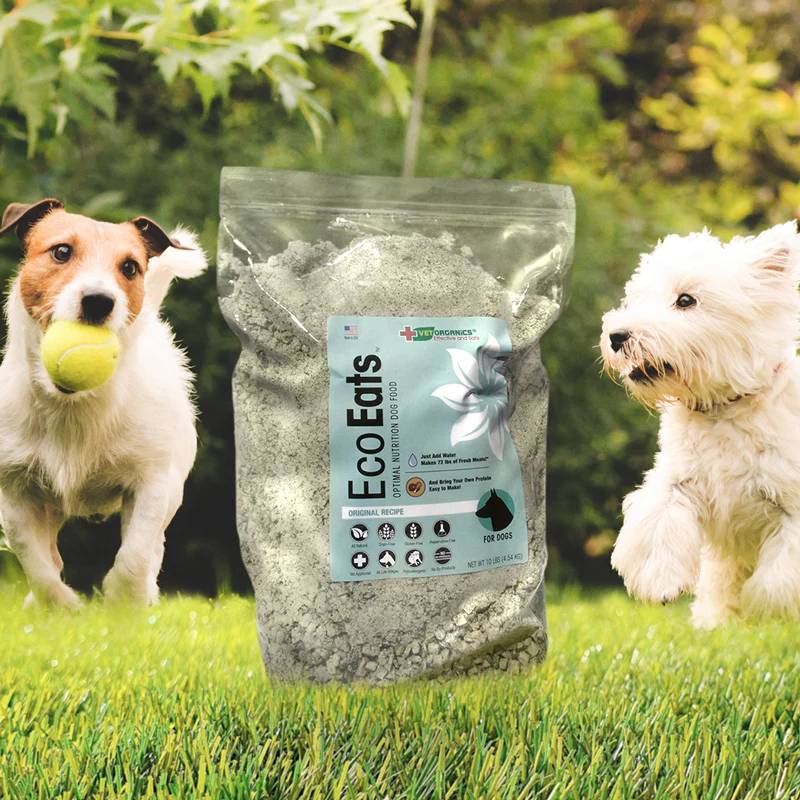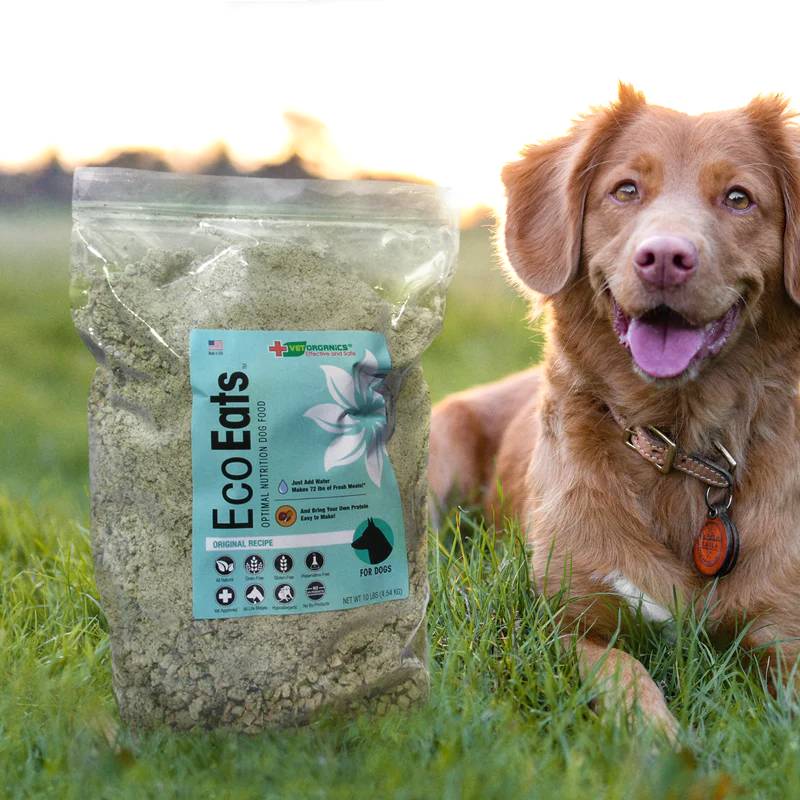 This delicious and affordable dehydrated dog food blend is packed with all the essential nutrients your pup needs to thrive. Simply add water, and the protein your pet digests best; whether that's turkey, chicken, beef, fish, or venison.
Ideal for dogs who:
Have specific allergies

Require a grain-free diet

Need to avoid specific meats

Simply deserve the best nutrition
100% grain-free, gluten-free, and allergen-free; this yummy new dehydrated dog food contains only the best, healthiest ingredients like whole eggs, apples, flax seed, and kelp. This means, your best buddy benefits from the nutrient-rich diet that keeps him happy, healthy, and loving you for years to come.
We know how hard it is to sift through hundreds of dog food options out there. We know how frustrating it is to spend money on expensive and healthy eats – only to have your dog turn up his or her nose at it.
And, we believe you should never be forced to choose between feeding your pets well, and staying within your budget. After all, quality food usually costs a fortune, and most of us can't afford to spend thousands of dollars every year – just to keep our pups healthy.
That's why we created EcoEats, a delicious, dehydrated mix that keeps your dog well fed and happy, without breaking the bank.
With EcoEats, you get an affordable, dehydrated food option your dog will simply love. It's made with the very best, natural ingredients, and is specially crafted to taste delicious and yummy – even to the pickiest pup.
No more searching, and no more worries. With EcoEats dehydrated dog food, you benefit from knowing you're making the right choice for you and your pet.
Get EcoEats dehydrated mix today, and enjoy a pup that's energetic, well fed, and loves you to pieces – all while keeping your money where it belongs – in the bank!
Get the 10 lb Bag!
PRODUCT DETAILS
EcoEats home-made dog food is the easiest way to cook for your dog.
It's:
All Natural

Grain-Free

Gluten-Free

Preservative-Free

No By-Products

Fun to Choose Your Protein

Easy to Make

Good for All Life Stages

Veterinarian Approved

Promotes Healthy Skin and Coat
INGREDIENTS
INGREDIENTS: Whole Egg, Apples, Flax Meal, Kelp, Broccoli, Carrots, Bananas, Blueberries, Parsley, Ginger, Celery, Lettuce, Watercress, Spinach, and Coconut Oil.
GUARANTEED ANALYSIS:
| | |
| --- | --- |
| Crude Protein (min) |    17.6% |
| Crude Fat (min) |    6.5% |
| Crude Fiber (min) |   15.4% |
| Moisture (max) | 7% |
INSTRUCTIONS
Combine 1 cup EcoEats and 1 & 1/3 cups hot water. Stir thoroughly and wait 5-10 minutes to hydrate. (You may adjust water for desired consistency).
"BYOP" Bring Your Own Protein: Add 1/2 pound of additional desired protein.
(e.g., warmed raw meat or browned ground meat – beef, turkey, chicken, fish, venison, etc.)
Serve warm for best flavor. Refrigerate any unused portions.
SERVING SUGGESTIONS:
| | | |
| --- | --- | --- |
| WEIGHT OF DOG | ACTIVE | LESS ACTIVE |
| Pounds |   Cups/Day (dry) | Cups/Day (dry) |
|    2-12 lb |  1/3 – 2/3 c | 1/4 – 1/2 c |
| 12-22 lb | 2/3 – 1 c | 1/2 – 3/4 c |
|  22-44 lb | 1 -1¾ c | ¾ – 1½ c |
|  44-77 lb | 1¾ – 2 2/3 c | 1½ – 2¼ c |
| 77-110 lb | 2 2/3 – 3¼ c | 2¼ – 3 c |
| 110-145 lb | 3¼ – 5 c | 3 – 4½ c |
The suggested daily amounts should be adjusted to suit your dog's appetite and nutritional requirements, which can vary by age and activity levels. To make other portion sizes, add 1.3 parts of water for every 1 part of dry EcoEats. Always keep fresh water accessible for your pet. Store in a cool and dry place.
PRODUCT LABEL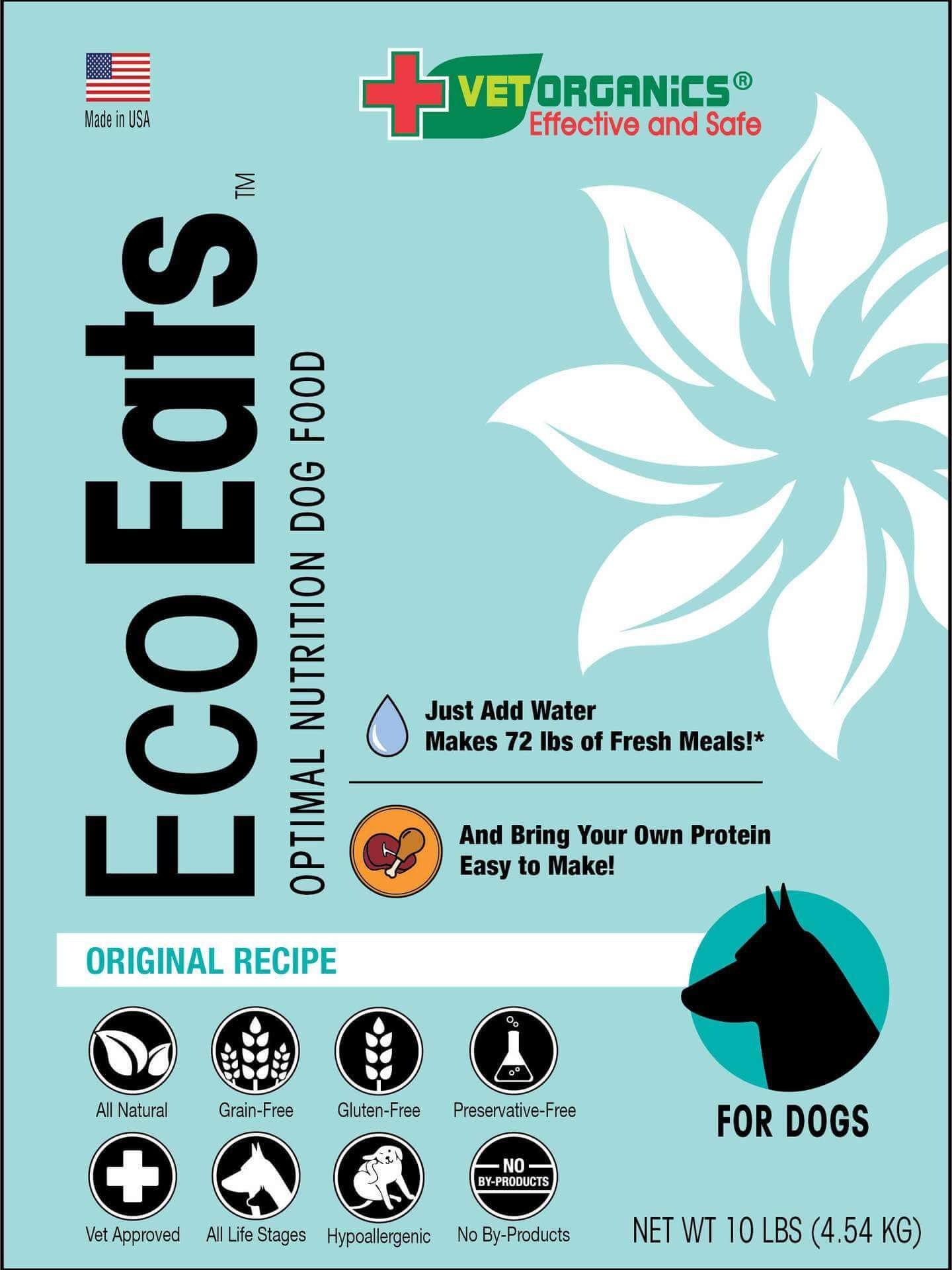 REVIEWS
Blown Coat Restores
Our 6 year old Chessie has seasonal hair loss that boarders on balding over lower back— above tail. — and on both flanks..He often gets irritation and pustules over the lower back in the balding area, but not hot spots. We had tried EcoEats a year ago and he did well, transitioned back to another dehydrated food and he was okay but not great. This January he totally balded over the tail and on flanks. We learned our lesson... after only 2 weeks back in EcoEats, his hair is already coming in. Skin irritation has resolved NEVER going without again!
EcoEats, a Great Find
I recommend EcoEats. I tried the other brands, and was disappointed. They didn't meet, continue or maintain an affordable high standard of quality.
For ex., one major producer that advertises their product as all-natural wholesome, etc. couldn't leave well enough alone. I dropped it when they when they introduced a slew of vitamins, minerals etc. just like the cheap common mass marketed products are filled with, and wanted to avoid, as I have a better sourced high-end bagged variety w/less added vit./min., using only a couple cups/week. I wouldn't want to eat a steady diet of that kind of stuff, neither did I want it for my canine friend. Another company raised their prices so high, no one with an average income could long afford to feed a dog larger than a Yorkie or chihuahua.
My female 60 lb shepherd mix likes EcoEats. It's now her sole dehydrated veggie based product. I supplement/alternate it with other natural foodstuffs that are close to free of added ingredients. Meats (sale-priced in larger quantities), egg, canned pink salmon, fish oil, tripe, organ meat pat`e, table left-overs, etc.
QUESTIONS?
General Questions
I made a mistake with my address/name but realized too late.
No problem, just send us an email using our contact us form with your order number as soon as possible. We try to process orders as soon as we get them so the earlier you let us know, the faster we can correct it before it's shipped!
My transaction was declined but I see charges on my credit card!
The charges you see on your credit card are holds that are automatically placed by ​your credit card. These holds should say "pending" on your credit card and will be removed after 72 hours. Unfortunately, we cannot change this as it is part of ​your credit card automated system. Each declined transaction will result in 1 additional hold placed on your credit card.
My Credit Card was declined! What should I do?
We use ​credit card fraud detection tools to lower the chances of identity thieves purchasing goods from our store. However, this also has the unfortunate side effect of denying legitimate transactions. To prevent being flagged by our fraud filters, please follow the following guidelines:
Make sure your credit card details are entered correctly.
Your billing address must match the billing address with your credit card issuer.
Can I buy Vet Organics products at wholesale?
Yes, we allow reputable vendors, groomers, and veterinarian practices to purchase our products for retail sale directly to their customers. Please head to our Wholesale Inquiries page to get more information.
Can I buy Vet Organics products in stores?
While EcoEars can't be bought at major pet retailer chains, we do allow approved, reputable businesses such as veterinarians and others to purchase wholesale as a service for their clients.
If you'd like to ask your vet, groomer, or another specialty pet service provider to carry our products, please send them a link to our Wholesale Inquiries page.
Where can I buy EcoEars?
You can buy EcoEars safely and securely here on our website or by phone, as well as on Amazon.com (those who have Amazon Prime may prefer to buy there).
If you'd to ask your family vet or groomer to carry our products, please refer them to our Wholesale Inquiries page.
Who Is Vet Organics?
Vet Organics is a pet-focused e-commerce company, founded on the principles that the same way people need natural products, pets need them too.
Where Are Your Products Made?
Our products are made in South Florida under strict FDA guidelines called GMPs (Good Manufacturing Practices). Our facilities are registered with the FDA (Food and Drug Administration), and the FDA inspects our facility regularly for compliance. As the FDA's quality-control process, GMPs ensure that products are consistently produced and controlled according to strict quality standards.
Will this work on my pet?
Every animal is different; however, the vast majority of our customers are very happy with our products because they are natural and because they work! Check out the feedback on our website or on
Here's the link to EcoEars for Dogs reviews
And for EcoEars for Cats reviews click here.
(You can find reviews or leave a review for any of our products on the review tab on the product page.)
(NOTE: Use of our products or any consumer product is not a substitute for proper veterinary care.)
How Much Product Do I Need?
For EcoEars and EcoMange products, one bottle will last long enough for 1-2 treatment cycles for all but the largest dogs or cats. EcoBalance supplements are based on 118 doses per cat or 25 pound dog. If your pet is bigger, give him 1 pump per 25 pounds of body weight.
When Will My Product Expire?
All Vet Organics products go out the door with a minimum 18-24 months shelf life if kept in a cool, dry place and away from direct sunlight.
Can I Get a Sample?
We do not have product samples, but we do offer a 100% money back guarantee so you can get a refund if you're not happy.
How Long is My 100% Satisfaction Money Back Guarantee?
Vet Organics guarantees all of our products 100%. Your 100% guarantee is good for one year from the date of purchase. You will never see a guarantee like this on prescription, mass-produced, pharmaceutical & antibiotic products.
Will Your Dog Products Work on My Cat and Vice Versa?
Good question…we know a lot of our beloved customers have dogs and cats. Well the answer is, it depends. EcoEars for Dogs for example can not be used on cats, but EcoEars for cats may be used on dogs. For dogs with extremely sensitive ears, you may want to order EcoEars for Cats. But for best results, use our Dog formula on your dog. 🙂
Can I Purchase Your Product Over The Phone?
We strongly urge you to consider purchasing our products online using your credit or debit card. The online purchase process is safe and our website automatically encrypts all data from your computer so no one can read it, including us.
However, if you do not want to enter your credit card number online under any circumstance, please call us at 800-589-2335 or 561-206-4476 and we will be happy to help you by telephone.
How Long Will It Take to Receive My Order?
Our shipping guarantee is that all orders received before 3 pm EST on a business day will ship the following business day, however in practice 90% of orders received on business days before 3 pm EST ship the same day. We ship from East Coast and West Coast locations, and your order will be sent from the location closest to you.
If you choose USPS First Class Mail, we estimate transit time* to be 2-6 business days.
If you choose our expedited option, and your order is placed before 3 pm local time, estimated delivery time is 2-3 business days.
*Shipping transit estimates do not include our processing and package prep time (up to 1 business day but it is often the same day).
You will receive an email confirmation from us shortly after you place your order, and will receive a separate email with tracking information within 1 business day.
I live in South Florida. Can I Pick It Up at Your Warehouse?
Your order will ship automatically from one of our two warehouses shortly after your order is placed. Orders to South Florida usually arrive in 2-4 business days using USPS First Class Mail and 2 business days using Expedited delivery.
Which Payment Types Do You Accept?
We accept Visa, Mastercard, Discover and American Express. We also offer other payment options such as E-checks through PayPal.
What is PayPal and can I use my PayPal account to check out?
PayPal is one of the most widely used internet payment processing platforms. Most people associate PayPal with eBay; however, we offer it as a direct payment option through our shopping cart. In addition to using your PayPal account funds, PayPal also allows you to use your associated bank account or credit card.
Once you have added the items to your shopping cart and you are ready to check out, you will see the available payment options.
Is My Payment Information Secure with You?
Yes, all of our checkout options use the latest encrypted security technologies to protect your information from the moment you enter your shopping cart information. No personal data is ever stored on our local servers. In addition, you can take confidence that our store is a Google Certified eStore.
I Can't Checkout, Help!
We hate when this happens as much as you do. Please call us at 561-206-4476 and we'll get you squared away.
Do you ship to foreign countries?
With the exception of EcoEars for Dogs and EcoEars for Cats, which are currently available in Canada, we do not ship outside of the US at this time.
What if I need support after purchasing a product?
We love to interact with our customers. Our preferred contact method is by email sent to us at info@www.vet-organics.com, but if you prefer the telephone, please call our hotline at 800-589-2335 or 561-206-4476 and we'll have the right person call you back.
What is Your Shipping Policy?
We guarantee that all orders will ship within one business day regardless of shipping option selected. We also have options to obtain free shipping.
Please refer to our Shipping Policy page for our complete Shipping Policy.
What is Your Return Policy?
I Don't Use My Credit Cards Online. Can I Still Purchase Your Products?
Yes, we can also process credit card orders by telephone or you can send in a check or money order.
To place a credit/debit card order by telephone, please either email us your phone number at info@www.vet-organics.com and we will call you back, or call us directly at 561-206-4476.
To place an order using a money order or check, please make payable to Vet Organics. Please include a note with your full name and shipping address, telephone number, email address (if you would like a receipt emailed immediately), which products you are ordering, shipping amount (if applicable) and mail to:
Vet Organics
PO Box 880655
Boca Raton, FL 33488
Orders placed with money orders will be shipped within 1 business day. Personal checks will be held until cleared, then shipped. 
If you have any additional questions or need any help, email us at info@www.vet-organics.com. We are happy  to help you.
Can I Pay With a Check or Money Order?
Yes. To place an order with a money order or check,please make payable to Vet Organics. Please include a note with your full name and shipping address, telephone number, email address (if you would like an immediately emailed receipt), which products you are ordering, shipping amount (if applicable) and mail to:
Vet Organics
PO Box 880655
Boca Raton, FL 33488
Orders placed with money orders will be shipped within 1 business day. Personal checks will be held until clear, then shipped.


If you have any additional questions or need any help, email us at info@www.vet-organics.com. We are happy to help you any way we can!
Have a Question? Submit it here!